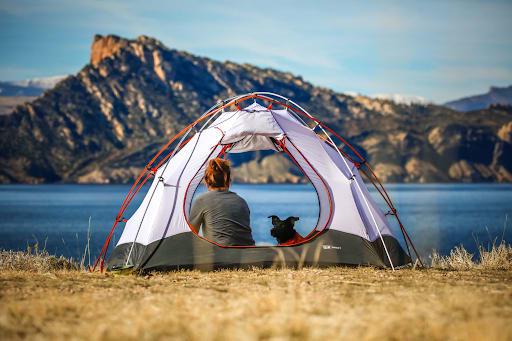 With spring right around the corner, now is the perfect time to get outside and take advantage of the weather. If you're looking for some dog-friendly hikes for you and your furry friends, then Midpen has plenty of options for you. In fact, the Mid-Peninsula has 11 dog-friendly preserves. Read on to learn about 10 of the best dog-friendly hikes in the area.
1. Polly Geraci Trail
Soak up some sunshine by exploring Polly Geraci Trail, one of the most popular (not to mention dog-friendly!) trails within Pulgas Ridge Preserve. This trail spans over one-mile and ascends an oak-covered hillside to the top of the preserve. You'll notice that the vegetation changes to scrub, which offers a spectacular place to take in the view at the top. This trail conveniently connects with other trails, forming a two-mile loop. Visitors may let their dogs roam off-leash in the 17.5-acre area in the center of the preserve. It's great to spend time in nature and let your dog enjoy running around!
2. Kennedy-Limekiln Area Loop
There's little more rejuvenating than spending time in nature! Kennedy-Limekiln Area Loop is a great place to do that. Plus, if you have an energetic pup that is ready for an adventure, they'll be sure to love this exciting hike. In Santa Clara County, Kennedy-Limekiln Area Loop is one of the many hikes found in the Sierra Azul Open Space Preserve. But this hike isn't for the faint of heart. It is a 13.3-mile trek that is a great option for owners and dogs who take their hiking seriously. Here you will experience 3,300 feet of vertical gain over rugged terrain, and you can plan to spend nine to ten hours on this adventure. At the top of the hike, your hard work will be rewarded with incredible views of the South Bay. While on this hike, be on the lookout for coast live oak, bay trees, and redwoods. Deer, bobcats, and coyotes have been known to visit the area occasionally, so proceed with caution. Be sure to pack plenty of snacks for substance and water to stay hydrated. The stunning views of the top will make it all worth it!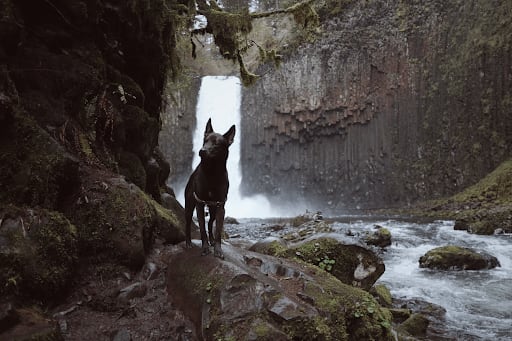 3. Waterfall Hike
Located in Coal Creek Open Space Preserve in San Mateo County, Waterfall Hike is a great option for you to take your furry friends! This pleasant three-mile out-and-back hike starts from Skyline Boulevard. To access this hike, you'll start by taking a right on Cloud's Rest Road), then turning right onto Meadow Trail to Alpine Road (trail), then Crazy Pete's Road to the Coal Creek Waterfall. Waterfall Hike offers a varied mixture of woods and grassy patches. Keep an eye out for wildflowers and blackberries along the trail. Although open year-round, winter is the best time to see the waterfall! This hike will take approximately two hours to complete, so make sure to pack lots of snacks and water. Keep in mind, if you decide to do this hike after heavy rain, be sure to wear good boots. Don't be afraid to get a little muddy during this hike!

4. Bridle Trail

Bridle Trail is located within the Thornewood Preserve. This easy trail stretches over .75-miles and is enjoyed by hikers of all skill levels. Dogs are also welcomed here, but please be sure to keep them on a leash. Bridle Trail carefully winds its way through Douglas firs and redwood forests before emerging into an oak and madrone forest connected to the Schilling Lake Trail. Because much of the path is covered by a dense forest canopy, the trail may be closed due to wet conditions. Before heading over, be sure the trail is open!
5. Overlook Trail
Make some memories with your pup at Overlook Trail! This trail is part of the El Sereno Open Space Preserve, located in Santa Clara County. This preserve is known for its nearly 7.4-miles of wide, gradual trails and, not to mention, breath-taking views. Overlook Trail, located at the North End, is spread over 1.2-miles. The trail begins with a slight slope through open grassland before entering a lightly shaded forest. (Who doesn't love some shade during a hike in the sunshine?) A small parking lot is available near the trailhead, but parking is limited - be sure to get here early. Although no fee is required to park here, a permit is required to park in the lot. This hike will immerse you in nature and leave you feeling rejuvenated. Plus, what's better than making some memories with your favorite pet?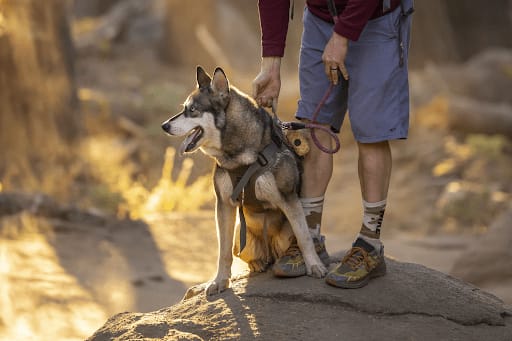 6. Jean Lauer Trail
Looking to get some exercise, take in some spectacular views, and enjoy a dog-friendly hike? Then check out Jean Lauer Trail! Part of the Pillar Point Bluff, this stunning trail is spread over 1.4-miles. Plus, it's easily accessible for all skill levels. This makes it a great option to bring your family or dog. From the parking lot, the trail crosses a seasonal wetland area before heading north to the bluff. Singletrack trails located along the bluff provide an easy loop before bringing visitors back to the main section of the Jean Lauer trail. This popular hike is used by hikers, joggers, cyclists, equestrians, and dog walkers. There's something for everyone here!
7. Arastradero Creek Loop
Pearson-Arastradero Preserve, located in Santa Clara County, has plenty of great hikes that offer the perfect opportunity to connect with nature. We recommend taking your dogs on Arastradero Creek Loop, one of the preserve's best hikes. Located just a short drive from downtown Palo Alto, Arastradero Creek Loop is a great way to spend a sunny afternoon.

This beautiful 3.7-mile loop trail, which takes roughly two hours to complete, is full of rolling luscious green hills that offer stunning views of the surrounding open space. Keep an eye out for all sorts of wildlife that frequent the area, such as California quail, cottontail rabbits, and redwing blackbirds. In addition to wildflowers, this trail commonly has beautiful wildflowers, including yellow fiddlenecks and wild roses. Plus, you might even find some blackberry bushes. Once you're on this trail, it's difficult to believe the Pearson-Arastradero Preserve is located within Palo Alto city limits.

8. Aquinas Trail
There's little more refreshing than spending time connecting with nature! Thankfully, there's plenty of opportunities to do that in the Mid-Peninsula - including the charming Aquinas Trail. Located in the El Sereno Preserve, Aquinas Trail is a 3-mile trek filled with incredible panoramic views. On a clear day, you can easily see views of the Lexington Reservoir, Sierra Azul, and the South Bay. It's no surprise that this dog-friendly trail is one of the most popular in the El Sereno Preserve.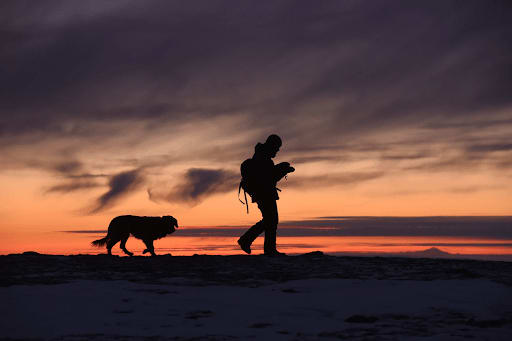 9. Windy Hill
If you want to challenge yourself—and if your pup is up for an adventure—check out Windy Hill. Windy Hill, located in San Mateo County, is part of the Windy Hill Open Space Preserve. As the first property POST protected back in 1980, this hike is considered one of Midpen's crown jewels. Kick-off your weekend by embarking on this 7.2-mile hike. On the top of the summit, you will be able to take in beautiful views of the entire Peninsula. Be sure to look for Mount Diablo, Mount Tamalpais, and Mount Hamilton at the top - all of which are visible on a clear day. Consider packing a lunch and enjoying it at the picnic tables next to the Spring Ridge parking area off Skyline Boulevard. Some animals that frequent the area include mule deer, coyotes, and songbirds. In spring, you'll be amazed at the diverse array of colorful wildflowers that pop up here. To make it even better, all of the trails in this Preserve are dog-friendly. That means you and your furry four-legged friend can make a myriad of memories here!
10. Vista Point Trail
Kick off a Saturday morning by going on a hike in Quarry Park, located in San Mateo County. We suggest hiking the Vista Point Trail, which is great for all skill levels (and, of course, your pups, too!). The trail is primarily used for hiking, walking nature, and bird watching. However, the path may also be used by horses and cyclists, so be sure to keep an eye out for others. This easy trail stretches over 1.1-miles and weaves through a stunning eucalyptus forest. Through the trees, you'll be able to catch glimpses of the Pacific Ocean, creating an idyllic setting. Once you've reached Vista Point, take in views of Princeton Harbor while your dog noses around the area. You can even spot Mount Shasta on a clear day!
If you are ready to start exploring San Francisco real estate, contact Heather Hansen today. As a top San Francisco realtor, Heather serves a wide range of neighborhoods. Her expertise and dedication to client satisfaction will guide you through the home buying process.